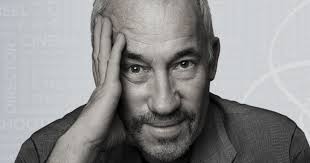 Simon's first role in the theatre was working for Sir Laurence Olivier " in the box office of the National Theatre. This offer of work came by return of post following a fan letter to Olivier. It was while watching actors rehearse that Simon realised that acting was something he wanted to do.
His films include the Merchant Ivory production A Room with a View (1985) playing the part of the Reverend Beebe.  He memorably played Gareth in Four Weddings and a Funeral (1994) and the dour Master of the Revels in Shakespeare in Love (1998).
On television he starred in several series of the Channel 4 sitcom Chance in a Million, as the eccentric Tom Chance, and appeared with Saeed Jaffrey in 1994 British television series Little Napoleons.  In 2004, Simon appeared in a Comic Relief episode of Little Britain.
An acclaimed author, he has written biographies of Charles Laughton, Orson Welles and agent Peggy Ramsay.
In 1988, Simon directed the West End premiere of Willy Russell's Shirley Valentine, starring Pauline Collins. In 1992, he directed the play Shades by Sharman MacDonald and the musical My Fair Lady. These were followed by a stage version of the classic French film Les Enfants du Paradis for the RSC in 1995.
His prolific stage career has included many other memorable performances (e.g., the solo play, The Mystery of Charles Dickens, 2000), in both actor and director roles.
He has become renowned for a series of one-man shows, which have toured the UK and internationally. These include The Importance of Being Oscar, The Mystery of Charles Dickens, There Reigns Love, a performance of Shakespeare's sonnets, Dr Marigold & Mr Chops by Charles Dickens, Being Shakespeare by Jonathan Bate, The Man Jesus by Matthew Hurt, and Inside Wagner's Head.
He was made a CBE in 1999.
Simon is a most entertaining after dinner speaker.