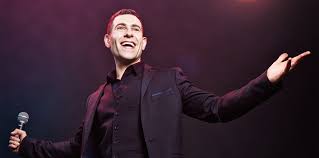 Named "the world's most famous blagger" by The Daily Telegraph, untameable prankster and acclaimed character comedian Simon Brodkin has hit global headlines multiple times for his high-profile stunts. Most famously he handed Prime Minister Theresa May a P45 form during her keynote speech at the Conservative Party Conference and showered disgraced FIFA president Sepp Blatter with hundreds of dollar bills in bribe payments "for the North Korea 2026 World Cup bid".
Of his many characters, Simon is best known for his irrepressible, south London wide boy Lee Nelson. With each of his Lee Nelson tours (Serious Joker, Suited & Booted, Lee Nelson's Well Good Tour and Lee Nelson Live) being extended twice or more.
In 2017, Channel 4 show Britain's Greatest Hoaxer followed Simon as he planned and executed three huge stunts. Simon surrounded US President Donald Trump, at the opening one of his golf courses, with 60 swastika-emblazoned golf balls, "as part of the new Trump Golfing range". He attached a 25-foot sign to the side of shamed former BHS owner Sir Philip Green's £100m superyacht, renaming it the 'BHS Destroyer'. And Simon went on Britain's Got Talent, incognito, as the ultra-orthodox Jewish rapper Steven Goldblatt (aka 'The Rapping Rabbi'), fooling Simon Cowell and the other judges to win four 'yeses'. It wasn't his first run-in with Cowell. Simon had previously managed to get on to the X Factor stage during a live show, singing along "as the ninth member" of the boyband Stereo Kicks.
Simon has also managed to join Kanye West as the American performed his headline Glastonbury set on the Pyramid Stage. He rapped alongside West in front of 200,000 people into a toy microphone he'd bought from Argos.
In character as Premier League footballer Jason Bent, Simon has warmed up with the Manchester City team before a fixture against Everton and joined the England squad as they were boarding the plane to the World Cup in Brazil.
Simon previously poked fun at the Volkswagen 'dieselgate' scandal by attaching a "cheat box" to a VW car at its launch at the Geneva motor show.
Simon is also the writer, star and creator of two series of BBC Three's ratings smash Lee Nelson's Well Good Show and sketch series Lee Nelson's Well Funny People, introducing the nation to a plethora of brilliant new characters. He also made the 90-min special Jason Bent's World Cup's Best Ever Goals, Ever! (BBC Three). Lee has appeared multiple times on BBC One's Live At The Apollo, as guest and host.
Serious Joker, the latest Lee Nelson tour, continues Lee's new look as first showcased in Suited & Booted, swapping his cap and shorts for a sharp (but stolen) suit. Due to massive demand, this 2017 tour has been extended until the end of December. These enormous levels of ticket sales are a trend in Simon's live shows which are packed with brilliantly crafted jokes and razor-sharp crowd interaction.
Simon's additional television and radio credits include appearances on Sunday Night at The Palladium (ITV); The John Bishop Show (BBC One); John Bishop's Christmas Show (BBC One); Channel 4's Comedy Gala; Absolutely Fabulous (BBC One); Children In Need (BBC One); Al Murray's Multiple Personality (ITV1); Comedy Rocks (ITV1); Big Brother's Big Mouth (Channel 4); The Wall (BBC Three); Edinburgh and Beyond (Comedy Central); and BBC Radio 2's Out To Lunch. In 2013, Lee Nelson made a highly anticipated return to BBC One's Let's Dance for Comic Relief, reaching the final with an impressive hip-hop-ballet performance of Swan Lake! He is the only person to perform in two series of the show, having danced to Club Tropicana the year before, and he also sat on the judging panel in 2012.
Simon has taken six hit solo shows to the Edinburgh Festival Fringe, his first show winning the Writer's Guild Award for Best Newcomer in 2006.
Simon wrote a weekly column in the News of The World as Lee Nelson.