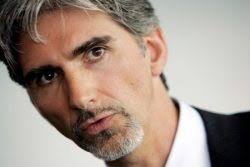 Damon Hill OBE is a British former racing driver.   He was the 1996 Formula One World Champion and is the son of the late double Formula One world champion Graham Hill, the only son of a world champion to win the title.  Graham Hill died in a plane crash when Damon was just 15.
Relatively late to motorsport, Hill began racing motorcycles aged 23 before progressing into single-seater racing and the International Formula 3000 Championship.  Test driver for the Formula One title-winning Williams, Damon finally got his break when he was unexpectedly promoted into the Williams race team the year after 1992 champion Nigel Mansell's departure.   Damon's first victory came at the 1993 Hungarian Grand Prix, taking the first of his 22 career victories.
He retired from the sport at the end of the 1999 season, after 122 race starts.  Damon now works tirelessly for the British Racing Drivers' Club and is endeavouring to retain the British Grand Prix at Silverstone.  He also spends a lot of time encouraging young drivers and assisting where possible in helping their future careers.
Damon discusses his rise to peak performance and the need to maximise success at any time during talks.  He is a  fabulous motorsport speaker,  relating well with audience members and providing an insight into what is needed in order to success in one of the most competitive environments in the sporting world.
Damon's after dinner speeches consist of tales of living in the fast lane without losing self-discipline,  how to succeed and what is needed to be a champion along with amusing tales,  such as playing guitar on a Def Leppard album.
One of the most sought after motorsport speakers, demand for Damon is always plentiful, with a wide range of corporate and personal sectors wanting to hear his story.