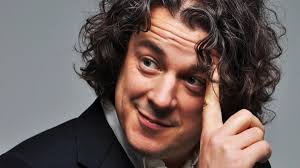 Alan Roger Davies is an English stand-up comedian, writer and actor.  He has played the title role in the BBC mystery drama series Jonathan Creek since 1997,  and has been the only permanent panellist on the BBC panel show QI since 2003,  outlasting hosts Stephen Fry and Sandi Toksvig who took over after Fry's exit.
Alan is also a talented writer who co-wrote and starred in the radio sitcom, The Alan Davies Show and going on to prove how versatile he is, took on a less comedic role starring as Henry Farm in the drama The Brief.
He has gone on to present documentaries including Alan Davies' Teenage Revolutions, Alan Davies Apres-Ski, The Dog Rescuers and also co-hosted the Brazilian Banter podcast for ITV with Tom & Dom from Bantams Banter which was a satirical look at the 2014 FIFA World Cup.