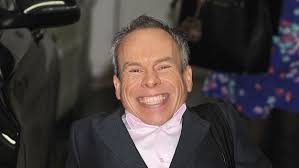 Warwick's roles have taken the veteran actor from his roots in Surrey, England, to galaxies far, far away, to the magical world of J.K. Rowling's 'Hogwarts', and to C.S. Lewis's fantastical land of Narnia in a career spanning over two decades.
Warwick began his career purely by chance as a boy in 1981. His grandmother heard a radio announcement calling for people under four feet tall to appear in the new 'Star Wars' film, 'Return of the Jedi'. Warwick's gestures were so characteristic of George Lucas' vision of an Ewok, that he was recast as 'Wicket', who became one of the film's lead creature characters. After the huge success of the third 'Star Wars' epic, Lucas made two Ewok movies for ABC television,'The Ewok Adventure and 'Ewoks: Battle for Endor', with Warwick reprising his role as 'Wicket' in both projects.
Ricky Gervais wrote an episode of his hit comedy 'Extras' to feature Warwick and fellow Harry Potter cast member Daniel Radcliffe. Episode 3 in the series presents both Warwick and Daniel in a very different light!
In 2011, he starred in BBC comedy series 'Life's Too Short', written and directed by Ricky Gervais and Stephen Merchant. Warwick co-created the show which saw him playing an exaggerated version of himself alongside guest stars including Liam Neeson, Johnny Depp, Helena Bonham Carter and Barry from Eastenders.
2012 saw Warwick travel the globe in the hugely popular, 'An Idiot Abroad 3' with Karl Pilkington. The unlikely pair were sent by Ricky Gervais to follow in the footsteps of Marco Polo from Venice, Italy, through India to China.
 Warwick has appeared in another classic sci-fi universe, 'Dr Who'. ' A Nightmare in Silver', written by acclaimed writer Neil Gaiman, saw the return of the Cybermen with Warwick in the role of Porridge, The Emperor of the known universe.