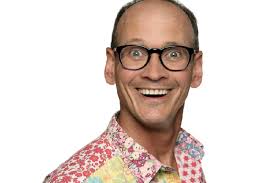 Steve is a comedian, radio presenter, actor, writer, husband and Dad. His wife, Janet, actually went into labour with their first child, Daisy, whilst Steve was presenting live on air with Sally Naden!
For over 12 years Steve could be found in the guise of "Mad Edgar" the court jester at Camelot theme park where he presented over 2000 "Crazy Juggling Shows". He has also supported both Peter Kay and Dave Spikey on tour and was voted "Entertainer of the Year" at the recent Red Rose Awards.
His many TV appearances have included "Phoenix Nights", "Max & Paddy", "Behind The Scene", "That's Entertainment", "Stand-up Britain", "Give Your Mate A Break", "The Afternoon Show", "Talk Of The North", "The Things You Do For Love", and despite being one of the North West's healthiest males, a medical insurance commercial for "Medicash".
Steve is also co-founder of the "Slaughterhouse-Live" ("Laughter" with an "S") character comedy nights. The group regularly perform at "The Comedy Store" and they were nominated in the "best touring show" category at the Manchester Comedy Awards, losing out to Peter Kay!
In his rare spare time Steve prefers to throw food around the kitchen rather than balls in the air, as he loves cooking, and dreams of one day owning his own "Juggler" themed restaurant where all dishes are served in 3's! Let's hope it "Catches On"!
Steve hits the airwaves on BBC Radio Lancashire on Saturdays between 10am-1pm.