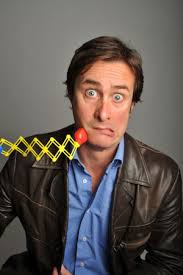 Irish comedian and actor Paddy Lennox first burst on to stage as a Stand-Up in 2001 and from then on it was clear that comedy was his passion. An engaging and instantly likeable character, Paddy combines topical material with observational routines.
He's also an excellent voice-over artist and has voiced numerous commercials in the UK and Ireland. Paddy never fails to give his all and entertain any audience. A truly funny man!
He has worked at The Shakespeare's Globe Theatre with Mark Rylance, slipped off this mortal coil in Holby City and been pulled faces in many television commercials across the EU.

Paddy earns a crust on the UK Comedy Circuit and plays all the great clubs:The Comedy Store, The Glee Club, The Stand, Barnstormers and many other clubs. 
He lives in Hertfordshire and runs The Great Dunmow Comedy Club and The Laughing Bishops Comedy Clubin Bishop's Stortford.