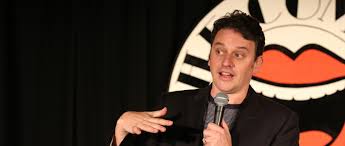 A lifelong comedy fan, Alex stormed onto the scene in the late 90's, and quickly became one of the most popular choices on the circuit.
A lightening quick ad libber, with a charming edge, Alex is an established MC. His unique brand of "flattery and abuse" proves ever-popular with audiences, and although often dancing deliciously close to the boundaries of what is considered PC, the lack of malice, and warmth to his approach, means everyone feels they're in on the joke.
Alex is a master at working the room, with plenty of energy, confidence and lively banter to enthuse any audience. His material is fast and funny, enlivened by his upbeat delivery.
As hilarious as it is wrong, Alex proves time and again he's not afraid to flirt with the offensive if there's a good gag at the end of it. He plays off the audience's mixed reaction to such lines wonderfully and skilfully, his years of experience evident.
His skills as a writer have also been in constant demand for Britain's prime time TV and Radio comedy shows, most recently writing the script for Paul Hollywood's national theatre tour. He is also highly skilled at TV and tour warm ups, bringing his warmth and ease to a variety of audiences. Alex's sharp writing skills mean if you've found yourself falling off your chair in a fit of giggles watching TV's latest successful comedy offering, the chances are, Alex is responsible.
Alex Boardman can be heard each Wednesday on XS Manchester's Football Social Show, co-presenting this popular prime time radio show alongside legends of football
Alex brings his solo show 'What Eric Said…' to the Lowry, Salford, this Autumn – the show recounts his experiences suporting Eric Cantona on five sell out tour shows