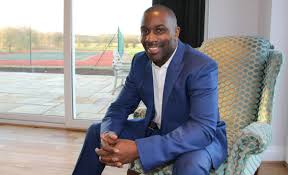 Derek Redmond is an outstanding Olympic champion. Derek broke the British record in the 400m for the first time 1985 in a time of 44.82 seconds beating the 10-year-old mark set by David Jenkins. He then in 1987 reclaimed the record from Roger Black in 44.5 seconds and held it until it was finally broken in 1992 by a mere 0.03 100's of a second.
As well as being a world record setter, Derek also won a number of competition and medals. He was Commonwealth & European Champion in 4 x 400m Relay in 1991, World silver medallist in 1987 and World Gold Medallist in the 4 x 400m Relay in 1991, setting yet another British European and Commonwealth record and also running the second fastest time ever recorded for the 4 x 400m.
Derek's increasing career was halted by a serious injury. He endured no less than 13 operations on his Achilles tendons and knees which finally forced him to pull out of many major competitions.
Derek draws on his vast experiences as an international and Olympic sportsman to provide a fascinating and inspirational platform for his motivational speeches. In telling his story, Derek takes the audience on a emotional roller coaster, in giving away his secrets of success along with those to survive and succeed in a team.