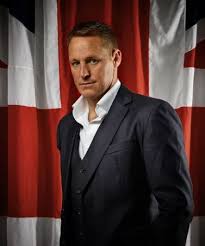 Paralympic gold medalist and TV presenter Danny Crates is a highly sought after keynote speaker, having worked in Malaysia, Dubai and all over Europe, he was voted one of the top 5 speakers globally from a list of over 1300.  His presentations leave audiences motivated and inspired to become high achievers, both personally and within business.
With Danny at the helm of your event you are guaranteed a smooth-running and engaging occasion.  An experienced Master of Ceremonies, Danny is known for his ability to interact with his audience, all done with his charming Essex humour.Danny understands how stressful organising an event can be. Pre-event he will talk through your programme, working along side you to create a memorable and bespoke occasion for your audience.  He reads through the scripts making sure he understands every detailed aspect, so his delivery is as per your vision. As an experienced live television broadcaster, Danny is comfortable using autocue and can instantly and seamlessly adapt his presentation to match any situation.
As an experienced speaker he is also able to offer an after-dinner style speech, giving your event that extra 'wow' factor and bringing to life any themes.
Danny is available for dinners, awards ceremonies, celebrations and conferences.