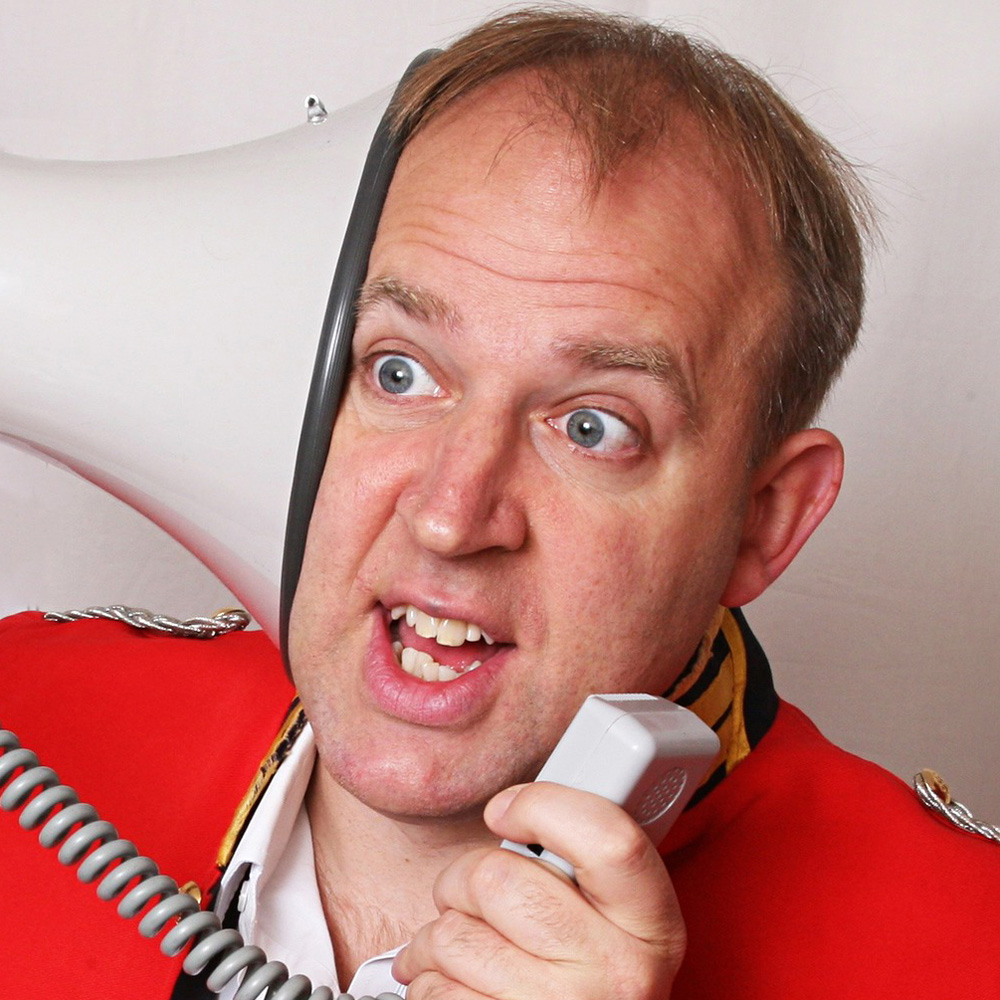 Tim Vine made his first real attempts at stand-up comedy in 1991 at the Comedy Café in London. He began to attend the New Act competition nights regularly. While continuing to attend the café, he started to do numerous open spots in other clubs throughout 1992. In 1993 he came second in the Hackney Empire New Act competition, gave up his office job in Croydon and by 1994 he was a regular on the London comedy circuit. That year he made his first TV appearances on BBC Pebble Mill.
In 1995 his show 'The Tim Vine Fiasco' won him the Perrier Best Newcomer award at the Edinburgh Festival. He hosted the morning game show 'Housemates' on BBC One the same year (25 episodes).
In 1996 he returned to the Edinburgh Festival with a sell-out show called "The Tim Vine Shambles'. In 1997 he became the first man to appear on Channel Five, following the Spice girls and co-hosting the very first show called 'This is Five' with Julia Bradbury.
He also hosted the daily gameshow 'Whittle' on Channel Five (132 episodes) and his own comedy gameshow called 'Fluke' which ran over the same period on Channel Four. He sold out in Edinburgh again with his shows 'Tim Vine Flat Out' (1998) and 'I'm Vine Thanks' and 'Tim Vine and the Minotaur' (1999).
In 2000 Tim performed in the Royal Variety Show in front of Prince Charles. From 2001 to 2002 he appeared in two series of ITV's 'The Sketch Show' which won a BAFTA. In 2004 he broke the Guinness world record for the most jokes told in an hour (499) and also that year he hosted the prestigious Rose D'Or awards in Austria. In 2005 he returned to The Edinburgh festival and sold out his show 'Current Puns' and the subsequent tour and followed it up with his next stand up show 'Punslinger' which he also took to Edinburgh and then toured. In 2006 he made his first feature film 'Library Altitude Zero' written, produced, directed and starring himself and some friends.
By now he was appearing in the award-winning sitcom 'Not Going Out' (BBC1) and did so for five series, from 2006 to 2012. Then he played Beach the Butler in series two of Blandings (BBC2) 2013. The Tim Vine Chat Show where Tim interviews members of the audience was a sell out at the Edinburgh festival in 2011, 2012 and 2013. It then successfully transferred to Radio 4 for two series and 3 specials including 2 christmas shows.
In 2010 (from 'The Jokeamotive') and 2014 (from 'Tim Timinee Tim Timinee Tim Tim To You') Tim won the Dave television award for 'Best joke at the Edinburgh fringe', the only person to have won it twice.
In 2015 he came 2nd in Comic relief's 'Let's Play Darts' (BBC1). The following year Sport relief again held 'Let's Play Darts' and this time Tim won the title he craved with his professional darts partner Darryl Fitton.
In 2017 'Tim Vine Travels Through Time' was on Radio 2 and then it was on BBC1 with Tim going back to the amazing world of Robin Hood recreated at Pinewood studios. The year ended with 'The Tim Vine Travels Through Time Christmas Special' on BBC1 with Tim travelling to the court of Henry VIII with Emma Bunton as Anne Boleyn. Also in 2017 Tim's 2nd Feature film 'Fearmoth' was shown at the Brighton film festival, to date it's only public screening and then for Radio 4's 'Chain Reaction' Tim was interviewed by Harry Hill and in the following episode Tim interviewed the incredible Ken Dodd.
2018 saw an extensive UK tour of Tim's new stand up show 'Sunset Milk Idiot'. He also came second in series 6 of Taskmaster (DAVE) and hosted ITV4's quiz 'Football Genius'. In December 2018 he turned on the Christmas lights for the 2nd consecutive year in his hometown Cheam, performed as Plastic Elvis in London and 'The Tim Vine Chat show Christmas Special' was broadcast on Radio 4 on Christmas day.
Other TV shows appearances include BBC's 'Live at the Apollo', 'QI', winning 'Celebrity Mastermind', hosting the ITV gameshow 'Don't Blow The Inheritance', 'Dave's one night stand' (Dave) a regular on 'Celebrity Squares' (ITV) and 'Countdown"s Dictionary Corner (Channel 4). And for Comic relief he sang on 'Fame Academy', danced on 'Let's Dance' as Justin Timberlake and even popped up in a Downton Abbey spoof with Victoria Wood. He's also had fun on celebrity versions of 'The Chase', 'Pointless', 'Tipping Point' and 'Catchphrase' among others. And on Celebrity Total Wipeout filmed in Argentina he fell off everything!
Tim has appeared in seven pantomimes and his stand-up has been performed as far afield as The Melbourne Comedy Festival in Australia as well as Montreal, Ireland, Singapore, Hong Kong, USA and China.
His stand-up shows have all been filmed and there are five DVD's of these shows: Tim Vine Live (2004), So I Said To This Bloke (2006), Punslinger (2008), The Jokeamotive (2009), and 'Tim Timinee Tim Timinee, Tim, Tim, to you' (2016). His latest show 'Sunset Milk Idiot' is due to be released on DVD in Autumn 2019. Tim Also has released two books 'The Tim Vine Joke Book' (2010) and 'The Tim Vine Bumper Book of Silliness' (2013).