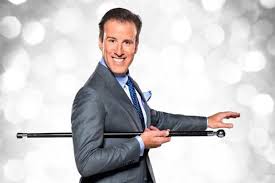 Witty, charismatic and a natural entertainer, Anton's skills in front of an audience extend far beyond his dancing: he is now widely known for his quick wit, repartee and inimitable sartorial style. Coined 'the ultimate gentleman', Anton defines modern-day dapper: classically stylish and always impeccably turned-out – much like his hero Fred Astaire whom Anton upholds as his style icon.
It's no wonder that Anton's mischievous charm caught the attention of television producers. His distinct likability and showbiz flair brought him invitations to present non-dance programmes on primetime television including the BBC's 'Step up to the Plate' with Loyd Grossman O.B.E, and cult Saturday night hit show 'Hole in the Wall' in which he appeared in over twenty-one episodes, firstly as a team captain in series one, then returning to host the show himself in series two.
A born showman, and relaxed in front of the camera, Anton excels at light entertainment – a genre he suits very well. From an expanding diversity of television credits, his charm, manner, wit… and comic timing are growing his popularity and appealing to generations young to old. And now through social media channels too, he's attracting an ever-widening fanbase.