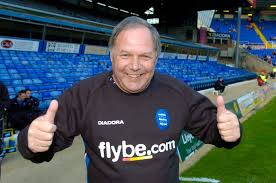 Barry Fry started out his footballing career as a Manchester United winger apprentice. He went onto to briefly play for Bolton Wanderers, Luton Town and Leyton Orient, before being forced into an early retirement due to injury.
Barry was determined that his career in football wouldn't stop there. He decided to go into management and thereafter managed teams such as Dunstable Town, Bedford Town, Maidstone United, Southend United, Barnet, Birmingham City and most recently, Peterborough United who he is currently Director of Football for.
Barry is as entertaining and unpredictable on the after dinner circuit as he was as a football manager. Always keeping things interesting!