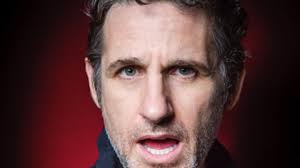 STAR OF BBC ONE'S LIVE AT THE APOLLO, THE JOHN BISHOP SHOW & MICHAEL MCINTYRE'S COMEDY ROADSHOW CH4'S COMEDY GALA 2013 & STAND-UP FOR THE WEEK & DAVE'S ONE NIGHT STAND
Since arriving in the UK, Canadian émigré Tom Stade has steadily earned a reputation as one of the most original and exciting stand-up talents around. He instantly made a splash on the UK circuit with his magnetic stage presence and first-class story-telling, and after years topping the bill and playing at international comedy festivals around the globe, he is now established as a leading touring act in his own right, and finds himself well on the road to being a household name.
Since 2011, he has toured the UK every year with a new show, playing to packed houses and gathering rave reviews. Tom's inimitable style and sharp observations caught the eye of talent executives at 4DVD, and he was signed an exclusive deal, releasing his debut Live stand-up DVD in 2013. Tom Stade Live is available in stores and online now.
After years of dedicated gigging, he has recently scooped a nomination for Best Headliner at the Chortle Awards.  He has been a permanent fixture at the Edinburgh festival, causing a stir at the Pleasance Courtyard with his hit show What Year Was That?,firmly cementing his reputation as a distinctive and formidable live act. A complete sell-out success, with extra dates added due to overwhelming demand, it was rumoured to be on the shortlist for a nomination from the luminaries at the Edinburgh Comedy Award. Tom returned to the festival in 2012 with a brand new offering: Tom Stade Totally Rocks,playing in the prestigious Cabaret Bar in the Pleasance Courtyard, and again receiving rave reviews, and adding extra dates due to demand –subsequently touring the show to over 100 theatres across the UK. In response to popular demand, Tom performed a greatest hits show at the Edinburgh festival in 2013, performing 12 Nights Onlyfor a limited run at the Assembly Rooms. He performed at last year's Edinburgh Festival with his latest show Decisions, Decisions, which he proceeded to tour extensively across the UK.  He returned to the Edinburgh Festival in 2015 with his latest show You're Welcome, which he will be touring around the UK in 2016.
Tom's irrepressible charm translated effortlessly to TV, and in the past few years, he has been invited onto every major stand-up TV show in the country. This year, he performed on BBC One's The John Bishop Show and he has made his second appearance on Live At The Apollo, featuring in the most recent series on BBC One.He performed to his largest live audience to date joining the star-studded line-up on Ch4's Comedy Galaat London's O2 in 2013.   He has also performed on Michael McIntyre's Comedy Roadshow, Lee Mack's All Star Cast, BBC 3's Edinburgh Comedy Fest Live and Ch. 4's The Boyle Variety Performance. He has performed twice on Ch4's Stand-Up for the Week, and was given an extended set on Dave's One Night Stand. Other stand-up appearances include Comedy Central's The World Stand's Up, ITV2's Comedy Cuts and multiple performances on Comedy Central's The Comedy Store. He was the co-writer and co-star of Frankie Boyle's Ch4 series Tramadol Nights.Back in his native Canada, Tom appeared in the critically acclaimed sitcom The Newsroom and the award-winning feature film My Own Private Oshawa. As a stand-up he starred in his own hour special for CBC/Comedy Central Stade and Confused. Last year, he starred as a spoof chat-show host in Come Fringe Yourself with Tom Stade, which was recorded at the Edinburgh festival and gathered a cult online following.He is now working on several original ideas for TV; and has just recorded an online sitcom with Daniel Sloss, intriguingly entitled M.U.F.F.
Tom remains in great demand internationally and has accepted invitations to perform at notable comedy festivals worldwide including New York, Aspen, Montreal, Toronto, Amsterdam, Kilkenny, Adelaide, Melbourne and New Zealand.He has also regularly entertained British troops overseas, braving the freezing cold Falklands, and been under fire in Afghanistan and Iraq.